QPR Store
Purchase the training and supplemental books you need to further strengthen your knowledge and understanding of suicide prevention.
Online Training
QPR Online Gatekeeper Training
Upon completion of your shopping cart purchase of this training program, information will be delivered in email form which will direct you to begin training.
Publications

Suicide: The Forever Decision
By Paul G. Quinnett
This book is written for those thinking about suicide, and for those who know, love or counsel them.
Read the reviews

"I am in awe of this book. It will be especially valuable not only to those who are thinking about suicide but to such nonprofessional counselors as teachers, clergy, doctors, nurses, and to experienced therapists. It has already become a classic." - Dr. William Van Ornum

"I only wish I had had this book available to hand out to the troubled students I've counseled over the years" - Patrick F. McManus, Professor and Author

"I wish to recommend Dr. Quinnett's Suicide: The Forever Decision most highly. I have found it most useful as bibliotherapy in my clinical work with suicidal persons... I believe that approaching the suicidal person with genuine respect, empathy, love, honesty, and faith in life, as Dr. Quinnett has so eloquently done, will make suicide come to make less sense for the suicidal person" - Ronald L. Bonner, PsyD.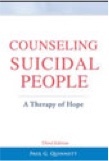 Counseling Suicidal People: A Therapy of Hope
By Paul G. Quinnett
This book is for anyone who works with, assesses, or counsels people at risk for suicide.
Read the reviews

"This may be the quintessential book for suicide prevention ever written." - Iris Bolton, Executive Director Link Counseling Center's National Resource Center for Suicide Prevention

"Short of having Dr. Quinnett standing next to me, or any hotline volunteer, as we try to help suicidal people find reasons to live, this book does the next best thing." - Karen M. Marshall, President National Hopeline Network

"This is simply the best no-nonsense guide I have ever read to help one understand and form a collaborative, working relationship with someone in suicidal despair." - Lanny Berman, Ph.D., Executive Director American Association of Suicidology

"Chock full of simple but elegant therapeutic maxims. The more than 50 therapeutic strategies alone are worth the price of the book. I will assign it to our psychology interns and psychiatry residents." - Thomas E. Ellis, Psy.D. ABPP, Professor of Psychology West Virginia University School of Medicine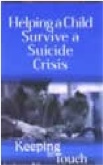 Helping a Child Survive a Suicide Crisis
By Paul G. Quinnett
Tri-fold brochure describing seven practical steps to help prevent the tragedy of a youth suicide. These brochures are sold in bundles of 50 sets.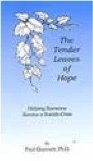 The Tender Leaves of Hope
By Paul G. Quinnett
24-page helpful guide written to parents, family members and friends of adolescents and adults currently in a suicide crisis.

Booklets and cards are sold in bundles of 25 sets. For quantity, please enter the number of bundles you wish to order. Bundles are sold at a discounted rate. Thank you!
$75 (1 bundle)
$62.5 (2-20 bundles)
$56.25 (21+ bundles)

Are you an instructor looking for booklets? Login here.